Pictures of how to setup loop
First loop - using Katoa to loop Lodge and Havili
In this case, it is important that Lodge plays before both Katoa and Havili )preferable a whole day before so you don't have to rush your choice)
If you like Lodge's score, do nothing, and he will become AE for Katoa.
If you don't like his score, swap Havili and Katoa, and get Havili's score instead.
(note that for the round about to be played as I type this, this setup won't work as Lodge plays after Katoa, but assume for argument Lodge plays Friday night and Havili/Katoa both play Saturday)
2nd Loop - using Katoa to loop Thompson and Isaako
In this case, it doesn't matter when Katoa plays during the round. What matters is that both Gosiewski and Thompson play after Isaako. And also that there are no other WFBs on your reserves bench.
If you don't like Isaako's score, do nothing, and Thompson will become AE for Katoa 
If Isaako does well, swap Thompson and Gosiewski and get Isaako's score.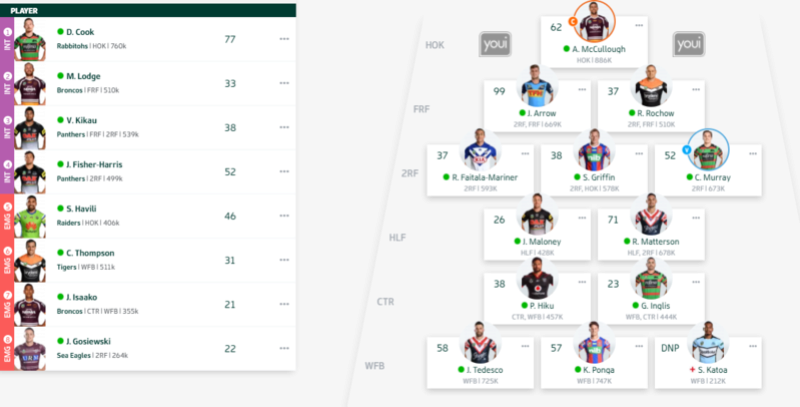 In both case, you should set up the loop such that your preferred player will be active AE if you take not action.
ie In case 1. I think Lodge will score better than havili, so I set it up so he will score.
If I think Havili will score better, I'll put Havili in 17 and Katoa in 19. I can still swap them around after Lodge plays, but as insurance against being unable to logon, have it setup so that your preferred scorer will be in play if you don't change your team.
Lodge has to be in 18 if he plays first, but Katoa and Havili can be in any order - they are the 2 that you will swap/not swap depending on Lodge's score.
Likewise for case 2, I think Thompson will outscore Isaako, so I start with him ahead in the rankings.
If I thought Isaako was likely to score better I would have Thompson in position 21 by default . Can always swap Gosiwski and Thompson at any point before they play, so place them in the order you think you'll want them. That way if you forget, or can't logon to swap, it won't be as harmful.
Also keep in mind that in both cases, you are not guaranteed to get a higher score.
In case 1, Lodge might score 35, so you decide to use him as AE. Havili could score a double and get 55.
Or Lodge could score 25, so you play Havili instead, he gets a 2nd minute HIA and scores 1 point.
It's an educated guessing game about whether to take the loop or not
Last edited by Milchcow on Tue Apr 10, 2018 11:16 pm; edited 1 time in total