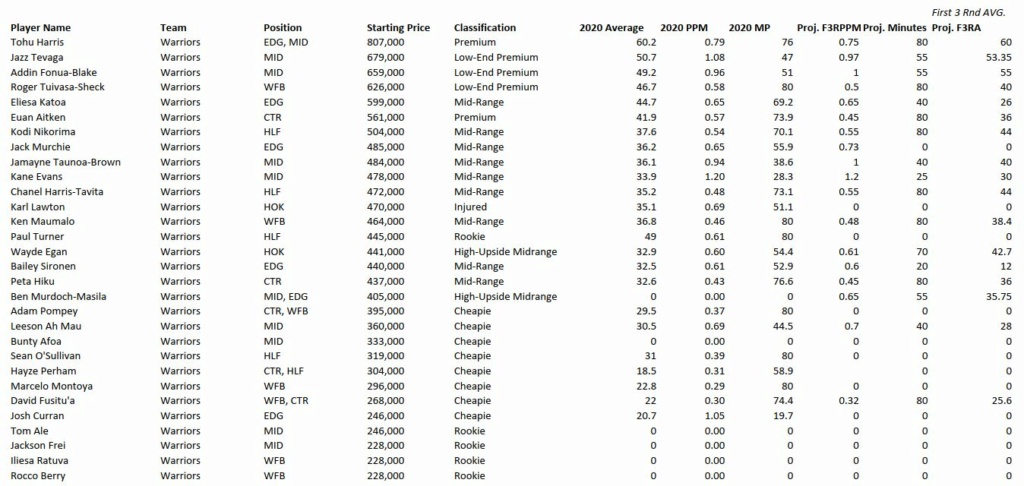 Hi Team, 
First time poster here - I know best practice is to lurk forums like this for a while before posting but I'm excited to find a group of like minded NRL Fantasy followers. For reference - I finished Top 300 last year and although I'm willing to put that down to a fluke I do generally do pretty well in classic. My big result last year has boosted my enthusiasm further and so this year I'm doing early season (i.e first three round) projections for all teams. 
Why first three rounds? Well generally by round three, you are aware of who to go after and who to avoid, who to pick up now and who can wait until later, who's a must-have cashy and who's a shitbag trap. 
My methodology for projecting the PPM for 2021 is going to be based heavily on prior year performance and adjusted for changes to a players team, situation, job security, minutes and historical early season performance. Obviously, this process is subjective and I am actively looking for discussion. These projections should, and will, change as more info on the players and team compositions come to life. I am an IRL League diehard and so a lot of the minutes and PPM predictions are based on my expectations as well as comments made by teams, coaches, players etc. 
Above are my early Warriors team projections. 
A few notes;
- I believe the warriors pack this year will be FRF - Ah Mau/JTB and AFB; 2RF Harris and Ben Murdoch Masila with Jazz locking the scrum.
- I believe Egan will play 70 mins with Jazz picking up the additional hooker minutes. I do not believe they will run a backup hooker on the bench. 
- I am not high on Murdoch-Masila. If he is to score well he'll need plenty of attacking stats. I don't see this happening immediately.
- RTS generally starts slow and I think if the team clicks like many expect, he may have less tough carries to make. This could lead to increase in attacking stats, however I think the talented outside backs could absorb these points. He is also priced quite high for his past season average.
- I think CHT will start 7 and Nikorima 6. CHT's scoring at halfback is strong.
- I think the bench will be Katoa, Evans, Sironen, and JTB/Ah Mau
Cant wait to hear what you guys reckon about my projections. Any must haves? Any must avoids? Any shit calls I've made you think I need to know about?